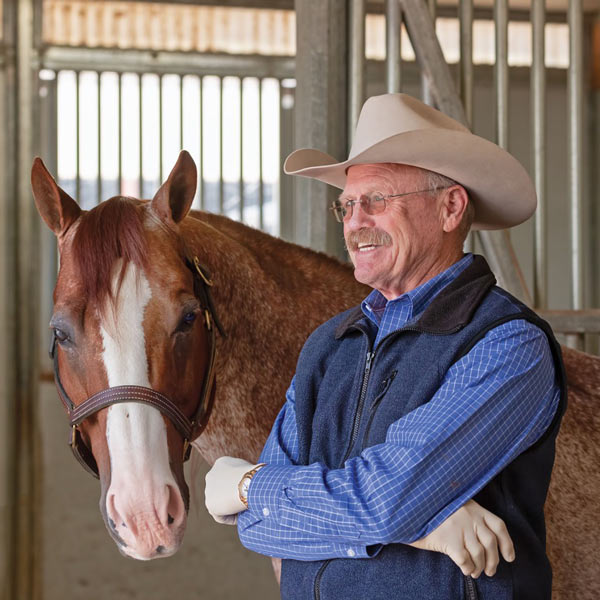 Dr. Tom Lenz
Dr. Tom Lenz
DVM, MS, DACT
Active in equine private practice, academia, and industry throughout his professional life, Dr. Lenz is a past President of the American Association of Equine Practitioners (AAEP) and has been a lifelong advocate for the health and welfare of the horse.  He graduated from the University of Missouri's College of Veterinary Medicine in 1975, earned a Master of Science degree in Equine Reproduction from Texas A&M in 1988 and is a Diplomate of the American College of Theriogenologists (Animal Reproduction).
Dr. Lenz has chaired the AAEP Welfare Committee, served on the American Veterinary Medical Association's (AVMA) Welfare Committee and currently serves on the welfare committees of the American Horse Council and the Professional Rodeo Cowboys' Association as well as the Bureau of Land Management's Wild Horse and Burro Advisory Board. He speaks to equine, veterinary, agriculture and government groups throughout the country on equine welfare and has published numerous articles and book chapters on the subject.  For his work in equine welfare, he received the AVMA's 2010 Animal Welfare Award.
Dr. Lenz is a trustee of the American Horse Council and the founding Chair of their Unwanted Horse Coalition.  He received the AAEP's Distinguished Service Award in 2005, their Distinguished Lifetime Achievement Award in 2009 and their highest honor, the Sage Kester Beyond the Call Award, in 2018 for his contributions to the equine industry and equine veterinary medicine.   Dr. Lenz is an Honorary Vice President of the American Quarter Horse Association (AQHA), where he serves on their Welfare Commission. For the past 28 years he has written a monthly horse health column for the Quarter Horse Journal and the Quarter Horse Racing Journal.  He was inducted into the American Quarter Horse Association Hall of Fame in 2018.  Earlier this year he was honored by the American Horse Publications Association with their 2019 Equine Industry Vision Award.  Dr. Lenz is currently retired but remains active riding his horses with his wife Erin and serving on various equine related committees and boards.