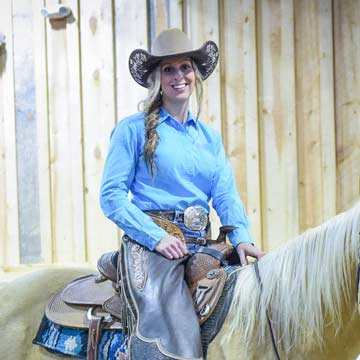 Ashley Purdin
Ashley Purdin
Head Trainer
ABOUT ASHLEY
Over a decade of Professional Experience
Breed Specialty:  ALL BREEDS WELCOME!
Areas of expertise: Equine Management, Advanced Horsemanship, Stock Horse, UHCA & EXCA Competitions, Pre-Purchase (Training) Evaluations, and Lessons.
Ashley Purdin teaches horses and people to become confident in their own skills and abilities on both recreational and competitive levels. As a life-long student herself, Ashley continues to learn under prominent trainers. Ashley spent four years training under NRHA trainer Fred Berschauer and was the top rider for 2010 Parelli Fast Track.
In 2011, Ashley graduated MidAmerica Nazarene University with a degree in Business Administration. She believes that the horse world is filled with many talented trainers but few of them are business-savvy. Ashley comes from a family of entrepreneurs and that along with her degree from MNU has instilled in her the values of strong client relationships built on good communication, trust and honesty.
Ashley currently starts colts and trains horses for ranch pleasure, cowboy racing and trail riding. She specializes in teaching people how to personally overcome their horsemanship problems and instill rider confidence to gain willing cooperation from their horses through easy to understand psychology and simple training principles. Along with a busy training, lesson and clinic schedule, Ashley also competes in the UHCA and EXCA (cowboy racing clubs). She had a great year in 2014 winning EXCA State Championships in Kansas and Missouri as well as winning several UHCA races.
Perhaps the success of Ashley's teaching and training program is best demonstrated through what she has helped her students achieve. Though success in competition is just a small part of what her students have accomplished with their horses, here is a list of "Team Pioneer's" competitive achievements:
2012 UHCA Youth National Championship Title
2012 UHCA Youth Division, First Place Overall
2012 UHCA Novice, First Place Overall
2013 AQHYA Youth World Qualifier, RHP
2013 AQHYA Youth World Show Finalist, RHP
2013 UHCA Youth Division, First Place Overall
2013 UHCA Novice, First Place Overall
2013 EXCA World Finals Youth, Fifth Place
2014 UHCA Youth, First Place Overall
2014 UHCA Intermediate, Fourth Place Overall
2014 UHCA Buckaroo, Sixth Place Overall
2014 EXCA Kansas State Champion, Youth
2014 EXCA Missouri State Champion Youth
2014 EXCA World Finals Young Guns, Fifth Place
2014 EXCA World Finals Youth Fourth Place
2015 EXCA World Champion Young Guns
2015 EXCA World Finals Futurity Top 10
2016 EXCA Young Guns Reserve World Championship
2017 EXCA Young Guns World Championship